Are you a boat enthusiast who likes to spend time on the water?
Maybe you take frequent fishing trips with our friends, or you simply have a passion for sailing. Whatever the case may be if you own a boat and you use it, then you should invest in a marine radio.
Best Overall
Best For The Money
Warranty
3 year warranty – water protection included
3 year warranty - water protection included
3 year warranty – water protection included
3 year warranty – water protection included
The "Best Marine VHF Radio on the Market" is to be your ultimate buying guide to choosing the right radio.
A VHF radio is an absolute necessity as it can be your savior in case of an emergency. If the motor breaks down or you get caught in a storm, you can sue it to send signals calling for help.
We don't know about you but the idea of being stranded in the middle of nowhere isn't particularly appealing to us.
In this guide, we present to you five of the best available marine radios in the market and list down their benefits and drawback so you can make an informed decision.
Best Marine VHF Radio – Reviews & Buying guide for 2020
Best Overall: Standard Horizon GX1600B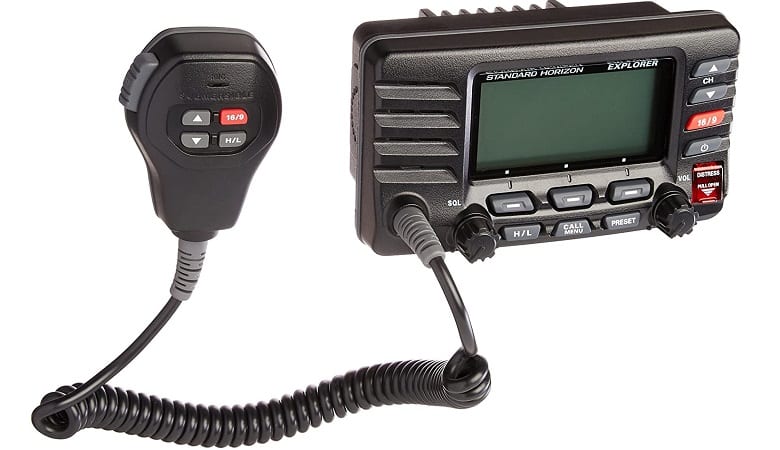 Benefits
Standard Horizon did a wonderful job at incorporating some amazing features into the GX1600. It includes a large 3 inch dot-matrix LCD screen.
Its large size makes it easier for you to identify your speed and course, as well as verify what channel you are on. You can even determine your latitude and longitude which makes identifying your location a piece of cake in emergencies.
Sending a distress call is almost effortless with the GX1600's DSC function. It even features a noise cancelling microphone so that it cancels out all external noise allowing you to send a clear message.
Its compact design makes it extremely easy to install. You can fit it in a flush mount or set it up using brackets. Its compact size will not interfere with the other part of the engine.
Drawbacks
The only drawback of the GX1600 is that it does not come with a pre-installed GPS. For you to be able to view your location, you will have to connect it to an external GPS receiver.
Extra Features
The Standard Horizon explorer comes with a three year warranty with water protection included. In case of accidental damage, you don't have to worry about extensive repairs and can just get it fixed by the company which is a great benefit.
Another additional benefit of the GX 1600 is that it can connect to a secondary CMP31 remote access microphone. Plus it is capable of saving up to a 100 way points that you can use to navigate.
Buying Advice
If you're looking for value for money, then the Standard Horizon Explorer is one excellent option. It has all the essential features you could need for your recreational trips.
With it on your boat, you won't be stranded. If you're looking for a compact and lightweight VHF marine radio, then this is the one for you.
Runner Up: Uniden UM435 VHF Radio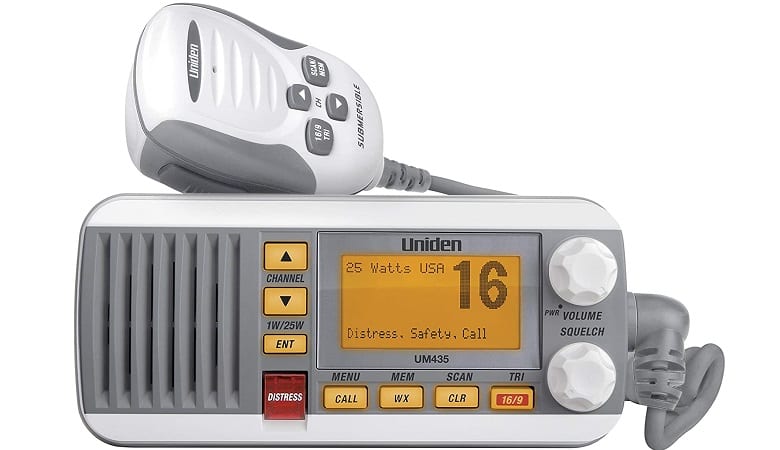 Benefits
With a transmission power of up to 25W, the Uniden UM435 makes for one amazing VHF radio. It features a wide LCD screen with a quick one touch command system, making it incredibly easy to use.
With it, you don't have to worry about the ever changing weather out on the water. It is a submersible design that offers optimal protection from the wind and rain.
Its dot matrix display and large channel indicator make the radio more readable. Its memory scan feature allows you to access all channels in the radio's memory so you don't have to memorize them.
Drawbacks
The only drawback of the UM 435 VHF marine radio is that it does not include a built in GPS and requires an external connection. It also does not have additional remote mic access capability which can be off-putting for many.
Extra Features
It comes equipped with a DSC system allowing you to send a distress call. What's more is that it also includes a position and send a request which allows you to send out your location making it easier for help to reach you.
It also features a programmable triple watch plus that allows you to continuously monitor emergency channels.
Plus it also includes Specific Area Message Encoding Weather Alert system and will warn you about impending dangerous weather transitions.
Buying Advice
If you're feeling adventurous and are looking to venture into perilous waters, then consider buying the Uniden UM435.
It is a fail-proof highly weather resistant system that can help you make it out of any challenging situation on the water.
Despite its completely submersible design, it comes with a 3 year warranty with water protection included.
You no longer have to worry about pricey repairs in case your radio does get damaged somehow. However, given how durable UM435 is that doesn't seem likely.
Alternative: Standard Horizon Eclipse Gx1300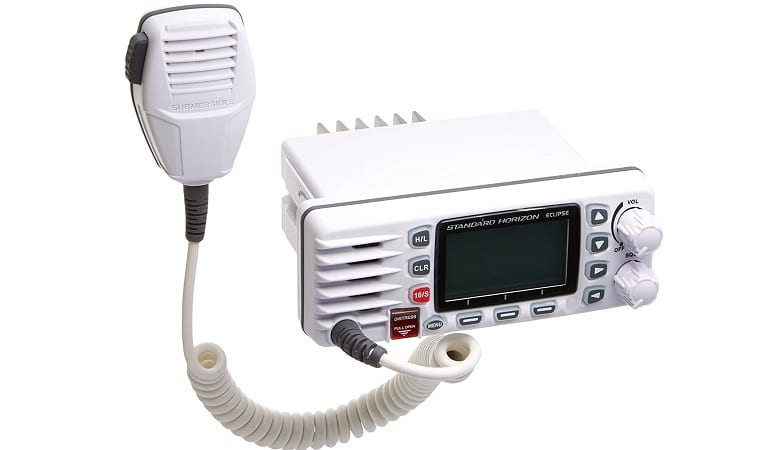 Benefits
If you're looking for an ultra-compact radio design, then this is the choice for you. With a 5.9" rear end, the Horizon eclipse GX1300 is easily installable in any flush mount without damaging other components.
It is not only lightweight and easy to install but also incredibly durable and highly weather resistant. With a submersible waterproof rating 5, it can stand its own for thirty minutes in about 5 meter deep water.
It is a full-featured marine VHF with all USA, International and Canadian Marine Channels. With its noise reduction technology, its makes for clear transmission by canceling out all external and engine noise.
Drawbacks
While the output volume is loud enough there is room for improvement there and it would definitely help if we could turn it up a notch.
Another drawback of the Horizon GX1300 is that it does not come with a built-in GPS and needs an external connection.
If you don't have an operational GPS in your vessel, then you may need to get it repaired to obtain full advantage of the GX1300.
Extra Features
With its priority and memory scan, you will now no longer miss out on important news. It is a new updated version with an easier to use menu and icon system. It comes fully equipped with a pre-installed Class D DSC system.
It not only sends out a distress call but also shares the vessel's identification number along with its latitude and longitude increasing your chances of a speedy recovery.
It also includes other safety features including position report and send, safety, urgency, DSC test call and auto channel switching.
Buying Advice
If you're looking for an affordable out class vhf marine radio, then this is the one for you. It comes full-equipped with all the features of a premium marine radio at half the price.
It comes with a three-year warranty that covers all damage. Not having to worry about repairing or replacing your radio is a blessing indeed.
Alternative: iCOM VHF Radio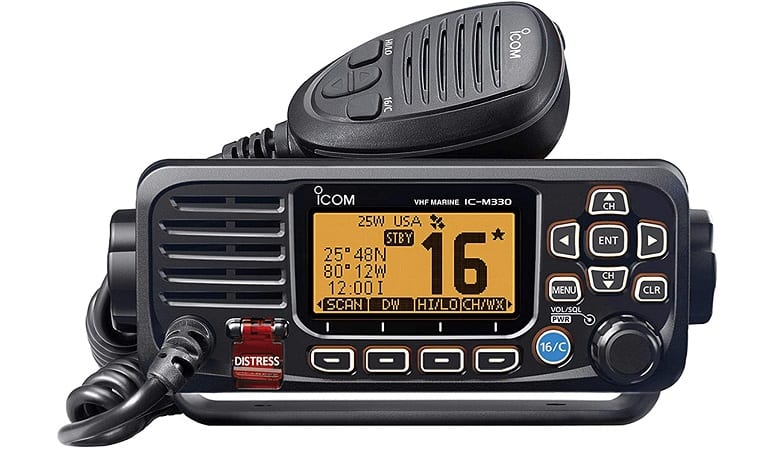 Benefits
If you're dealing with tight spaces but want the full functionality of an ICOM M324 series, then M330-11 is the one for you. It is ideal for compact spaces and can fit in the smallest of flush mounts without disturbing other components.
It's a tiny radio, but by no means is it lacking in functionality. It includes a GPs receiver and comes with an easily installable GPS antenna that improves accuracy.
With the antenna, you can obtain information about your location, speed, and latitude and longitude.
If you don't want to spend the entire tip monitoring the CH70, you don't have to worry as M330-11 does that for you even when you are on another channel.
Plus, with its built DSC system you can send distress calls as well as urgency, individual, safety, position, send and report, group and DSC test calls.
Drawbacks
It does not come with a pre-installed GPS and you need to rely on an external GPS. You will also have to be extra careful with the GPS antennae as if that gets damaged during an emergency then it may very well leave you stranded.
Extra Features
It is a highly weather resistant radio with a waterproof rating of IPX7 which is quite high. It comes with the exclusive AquaQuake draining feature which adds to its water resistance adding to its utility.
With its 25W transmission power and its easy interface, it is the perfect fail-proof marine VHF radio.
Buying Advice
It is ideal for smaller boats where space is an issue. This compact and lightweight radio can give you the full functionality of high-end equipment but in a smaller package.
It has all the DSC features you could possibly need and is highly water and weather resistant which makes it an excellent investment.
The ICOM M330-11 can be your saving grace during emergencies.
Best Value for Money: Uniden PRO505XL CB Radio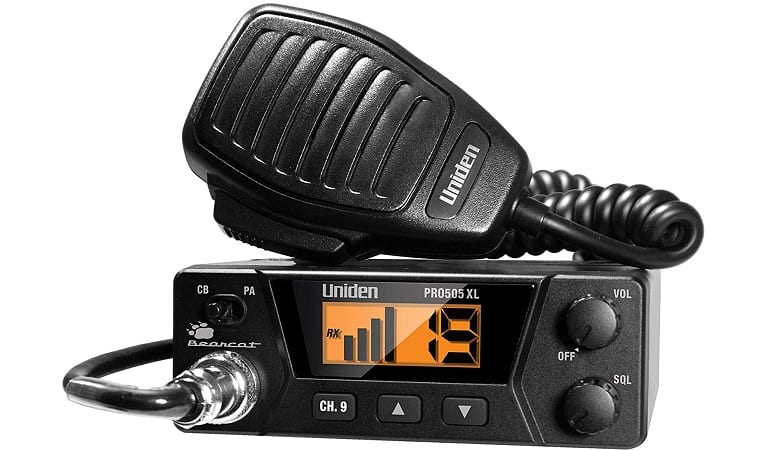 Benefits
The Uniden PRO505XL is the ideal device for those looking to upgrade their communication systems.
It comes with a complete 40-Channel Bearcat Compact SB Radio and works as an ideal marine radio. It is easy to mount and fit in even extremely compact places.
It features a large back lit LCD display which is ideal for day and night use. No matter what the time is, you will be able to view the screen effortlessly for easy navigation.
It comes with a CB antenna kit that covers all CB channels and makes communication easier.
Drawbacks
The kit does not come with a built in GPS. It relies on the antenna for both GPS connection as well as channel reception and in case of an emergency that is not the most ideal of set ups.
It is also not weather resistant and can be damaged if exposed to harsh conditions on the water.
Extra Features
The compact radio comes with a mounting hook, bracket as well as knobs and mounting hardware. It is not only incredibly easy to set up but also very easy to use because of the command up and down buttons on the device.
It also supports two external speakers and comes pre-set with emergency channel 9. It also comes with a shock spring and a magnet mount which guarantees its safety when traveling on rough waters.
Buying Advice
If you're searching for value for money, then look no further than the Uniden PRO505XL.
It provides full functionality of some of higher priced marine radios at half the price. Its size is so compact that you can set it up in your car as well. It covers all 40 channels which makes it even more appealing.
It is incredibly easy to use and features accessible up and down command buttons. Its large back lit LCD display is a major must. Whether you have a small or a large vessel, the Uniden Pro505Xl makes for the perfect marine VHF radio.
Marine VHF Radio FAQ
Do You Need a License for VHF Marine Radio?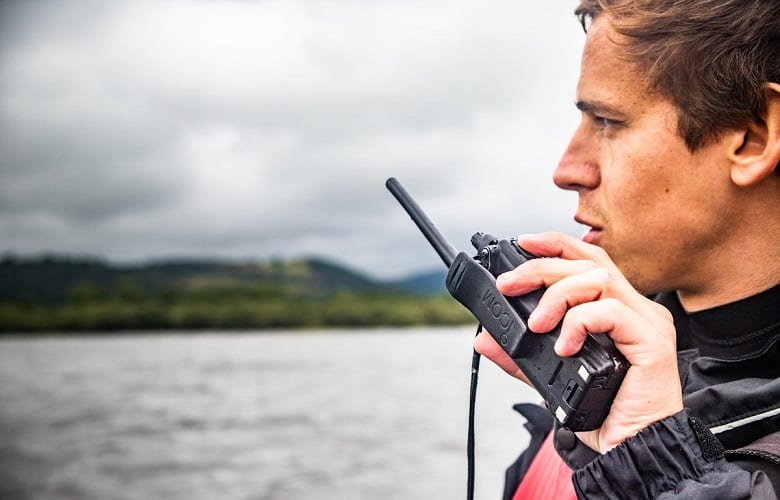 Yes you do need a license for the VHF Marine radio. In fact, you will also need a separate license for the radio operator.
The radio license is the key to obtaining the unique vessel identification number, known as MMSI, which will aid rescue and recovery during emergencies.
To apply for a radio license, you will have to fill out a form for a ships radio OFCOM. You can also get a form for a transportable license from the same place.
You will also need to apply for one of the two available operators licenses. You can apply for the Short Range Certificate or the Long Range Certificate.
If you plan on sticking to VHF only then a SHC will suffice. It provides training on radio etiquette and procedure as well as on how to handle the DSC system.
If you intend on taking your passion for sailing to the next level, then you need to apply for an LRC. It covers other procedures such as setting up a high frequency call and usually takes longer to process.
How Far Will a Marine VHF Radio Transmit?
Marine VHF transmission range varies from radio to radio. Really high quality radios allow you to transmit over 1 W to 25 W, which gives a transmission range of around 100 kilometers or 62 miles.
However, handheld radios have a lower transmission power and only cover up to 15 to 20 miles. Because of their high transmission range, larger ships and vessels prefer fixed mount radios over hand held ones.
How Does VHF Marine Radio Work?
Most marine VHF radios operate between frequencies of 152 MHz to 176 MHz. What places fixed mounts above handheld mounts is the fact that they have longer antennas. All radio work on a line-of sight basis.
The taller the antenna will be further it will be able to see which increases the chances of it successfully sending and receiving signals.
As long as there is another antenna within sight on the horizon, your radio will be able to transmit a message.
However, you can't just say anything and expect to receive aid. There is a proper procedure to making a distress call.
Tune in to channel 16 on your VHF radio. If you are within the VHF range of the shore or ships, then you can expect to receive a response in no time.
Send out a Distress Signal and speak "This is Mayday, Mayday, Mayday." Do not change the wording as the words "This is" are only to be spoken once followed by Mayday thrice. This is standard protocol so make sure you follow it religiously.
Clearly state the name of the vessel, the MMSI number, and the boat registration number once.
In the microphone, repeat "Mayday" followed by the vessels registration number.
State the position of the ship clearly enunciating the latitude and longitudinal position of the boat. Make sure to point out any landmarks or sites that could help in navigation.
State the nature of distress and what kind of assistance you will require.
Mention the number of people on board and any other information that could help. If you need additional fuel or lifejackets, make sure to ask for them.
Clearly speak the word "over" in the microphone and wait for a response.
Can I Use a Marine VHF Radio on Land?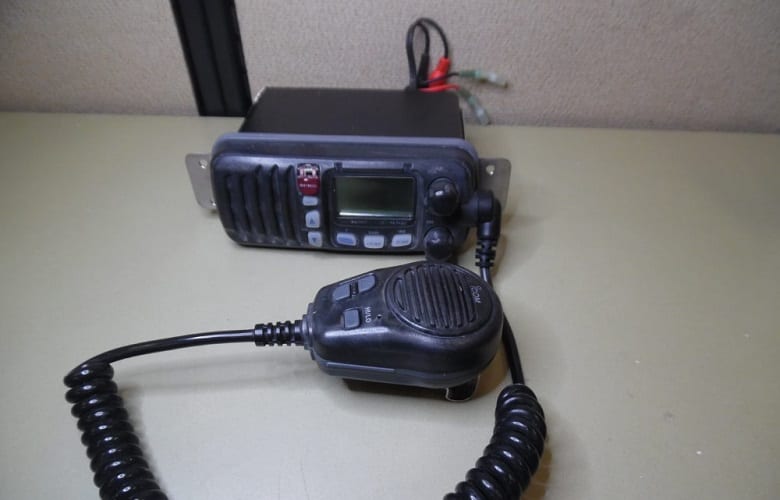 According to law, VHF radio whether fixed mount or handheld cannot be used offshore especially once they go ashore.
However, recently, the Federal Communication Commission has allowed for certain small handheld VHF radios to be used ashore but only for emergency situations.
If a police vehicle is near the port and receives a distress call on the vhf radio nearby, then they are legally allowed to assist the vessel in distress.
However, the communication must be strictly limited to operational or business assistance to the said vessel.
Ships on dock or stored offshore with a working VHF radio can also utilize the equipment to respond to any distress call they may receive. But the user must make sure, that they strictly follow the VHF operational protocol as set out by FCC.
Conclusion
There are many options out there in the market that will leave you confused. To ease the decision making process, we have listed down five of the best marine VHF radio on the market.
Whether you are looking for something weather resistant or for something compact and lightweight, we have an option for you.
The Uniden PRO505XL provides users the best value for money. It combines all the best features of a VHF marine radio in a compact and lightweight package that can fit in any boat.
Plus, it covers all 40 CB channels so you don't have to worry about having your distress call ignored.
However, The Horizon -GX1600B is the best marine VHF radio in all the options. It is not only lightweight and compact but is also weatherproof. It comes with a 3 year warranty period that provides protection against accidental damage.
The Uniden – UM435 is our runner up but is still one amazing VHF radio. It is incredibly easy to use and comes with a triple watch system that allows you to monitor a wide range.
It also provides you weather alerts based on your current location ensuring you are always well prepared to take on any unexpected challenging situation.
The Horizon GX1300 and the ICOM M330-11 are also amazing alternates for those looking for easy to use fixed mount systems.
They have a wide range of functions that can not only aid navigation but also ensure timely rescue in times of distress.
The "Best Marine VHF Radio on the Market" lists down the pros and cons of each in extreme detail so you can chose one that best suits your needs.
---