What is the best marine GPS?
It's the one that ticks all the boxes on easy-of-use, accuracy, range, and compatibility with other navigation equipment.
Best Overall
Best For Fishing
Dimensions
2. 6 x 6. 0 x 1. 2 inches
In this guide featuring marine GPS reviews, we provide you with detailed information on everything you might want to know when it comes to selecting a reliable navigation device for your boat. So, let's get started.
Now, let's take a more in-depth look at the featured specs, pros, and cons of each product. But before that, there's something else we feel we need to address.
Best Marine GPS – Reviews & Buying guide for 2020
Best Overall: Garmin GPSMAP 942xs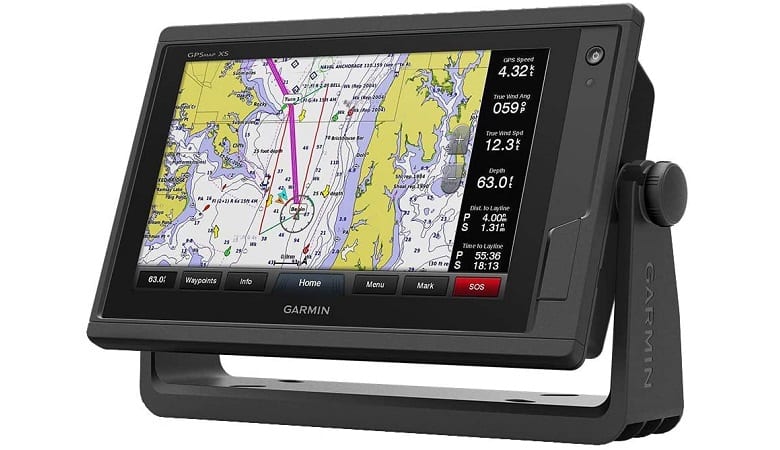 The Garmin GPSMAP 942xs, ClearVu and Traditional CHIRP Sonar with Mapping, 9″, 010-01739-03 is perhaps the best Garmin marine GPS – if not the best marine GPS available in the market.
It's an advanced navigation system that packs big value in a compact device. It is based on the original 7-inch touchscreen GPS technology that the company pioneered over a decade ago.
See what makes it the GPS of choice for expert boating enthusiasts.
Benefits
This boat GPS is suitable for all types of watercraft and all kinds of adventures at sea. It gives anglers, sailors, and cruisers a high-definition view of what's lurking beneath the surface.
The Garmin 942xs features a 9-inch high-resolution intuitive touchscreen and comes preloaded with aquatic maps for the U.S., Canada, and Bahamas.
It works with the ActiveCaptain boating app so you can automatically sync it with your chartplotter. This makes nautical navigation a whole lot easier.
Drawbacks
The major drawback of this premium boat GPS receiver is that it might not fit into the budget of an average boating enthusiast.
Also, it does not have a display brightness control which may not sit well with some users.
Extra Features
Garmin 942xs easily integrates with the Garmin Marine Network which allows you to share user data and IP camera recording along with enabling radar and sonar collision avoidance systems.
It offers two mounting options – bail or flush – and has an internal memory that allows you to save up to 50 routes with 50,000 touchpoints.
Buying Advice
If you are willing to splurge some extra dollars on a marine GPS, the Garmin 942xs is the best choice to consider. This highly sensitive GPS receiver offers almost everything you can expect in a high-end nautical navigation device.
From weather updates and wind speed and direction to network connectivity, camera integration, map drawing software and more; the 942xs will make you a master of the sea routes in no time.
RUNNER-UP: Simrad Cruise-5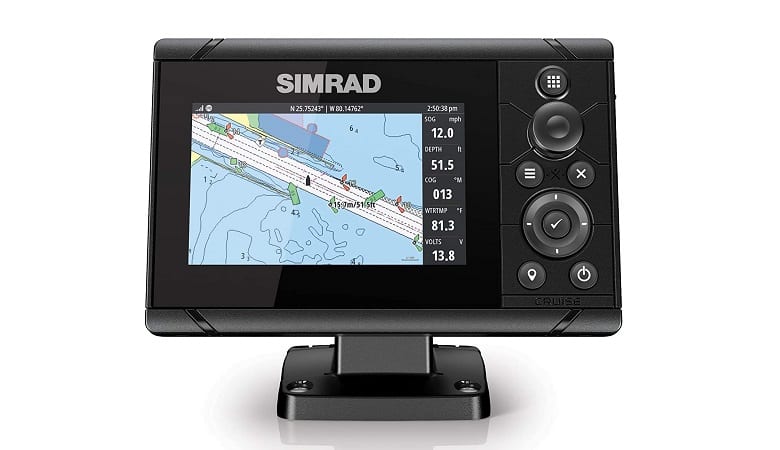 The Simrad Cruise-5 GPS and Chart Plotter comes close in performance to the Garmin 942xs, falling behind in a few aspects but actually surpassing it in a few others.
It is a strong and durable navigation system designed to withstand the harsh conditions at sea while maximizing utility for both anglers and sailors.
Benefits
The Cruise-5 GPS and Chartplotter by Simrad is a smart and intuitive, user-friendly device that offers everything you need for hassle-free navigation at sea.
It can display charts and sonar simultaneously in split-screen view. You can browse the menu, define routes, view weather conditions, and adjust screen settings effortlessly using the keypad controls and rotary dial.
Drawbacks
Unlike the Garmin 942xs, this boat GPS is neither radar-compatible nor does it offer NMEA 2000 connectivity. Thus, it lacks the ability to automatically correct the course that the autopilot might be steering.
Extra Features
Simrad Cruise-5 comes in three different styles. You can choose between a 5-inch, 7-inch, and 9-inch screen display at the time of ordering the product.
They all come preloaded with a worldwide base map in addition to a high-quality map of the U.S. coastlines. The package includes a mounting bracket so you can install easily on your own.
Plus, these devices also feature an in-built CHIRP sonar to give you precise information about the actual water depth.
Buying Advice
The Cruise-5 GPs can help you cruise confidently by keeping track of your position at sea at all times.
If you are searching for a reliable boat GPS that makes you feel more in control while sailing but doesn't sit too heavy on your wallet, this is a good choice to consider.
ALTERNATIVE: Garmin GPSMAP 78 Handheld GPS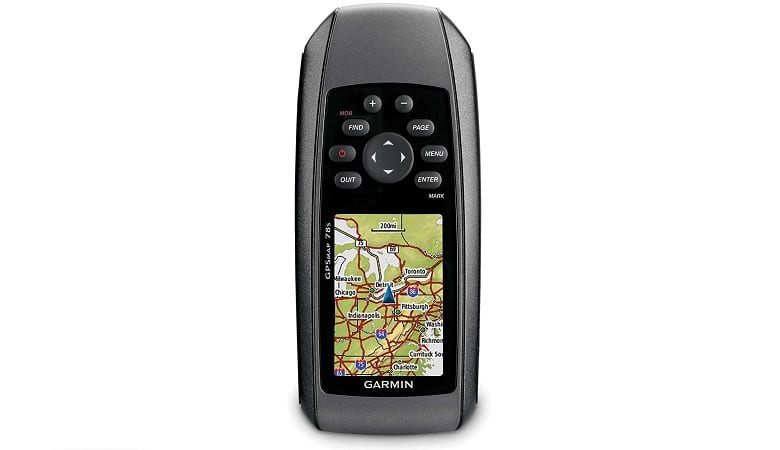 The Garmin GPSMAP 78 Handheld GPS is both user and marine friendly. And by marine, we don't just mean sailing and fishing only – the device is also great for use in watersports such as jet skiing.
Featuring a sleek and slender design, this portable device will easily fit into your pocket.
Alternatively, you can attach it to a backpack so that you have live access to your location whether you traverse along the coast while fishing or head out far into the ocean while sailing.
Benefits
The Garmin 78 GPS ships with a complete set of detailed U.S. coastal maps, saving you the trouble of having to download them by yourself.
Housed in a robust assembly, the device contains eight logically laid out buttons that allow for seamless navigation.
In addition to helping you chart unfamiliar waters, Garmin 78 also helps you connect with nearby vessels and/ or coastguards in case something goes awry during the trip, and you require immediate help.
Drawbacks
Being a pocket-sized navigation tool, Garmin 78 has quite a small screen that often compromises its usefulness for people with weak eyesight.
Other than that, it's a purposeful device that will come in handy whether you are on a private yacht or a commercial vessel.
Extra Features
The Garmin 78 has an in-built barometric altimeter along with a triple access electronic compass. It lets you share waypoints and routes directly with other navigation tools that are compatible with the device.
Moreover, it also has a dedicated 'man overboard' button that relays your exact location to the relevant authorities as well as any other vessels that might be close by.
Buying Advice
If you are looking for an inexpensive, small, and durable marine GPS that's easy to use and carry around, look no further than Garmin GPSMAP 78.
It offers most of the basic functions that any angler or cruiser would typically want in a marine GPS. If you want to ensure safety at sea in terms of both, navigating your way and calling help in case there's a mishap, this is the best gadget to go for.
Best Marine GPS For Fishing: Humminbird HELIX 5 GPS G2 Fish Finder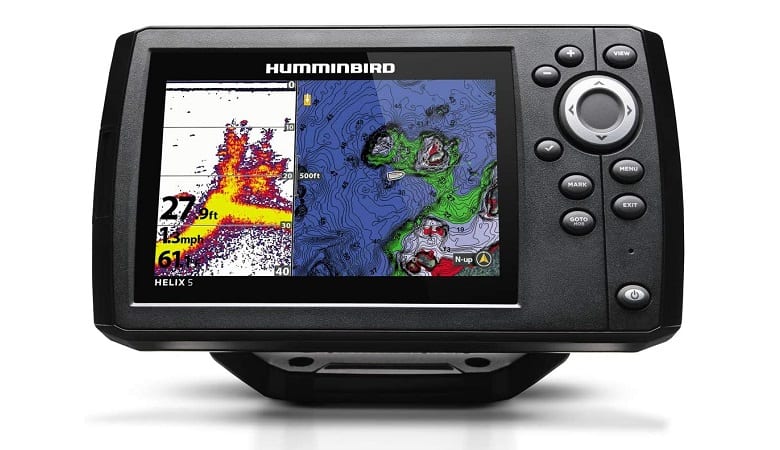 With the Humminbird 410210-1 HELIX 5 CHIRP GPS G2 Fish Finder, your fishing trips will become a lot more fun and exciting – and of course, way more fruitful too.
This professional-looking device uses advanced imaging technology along with well-detailed marine charts to help you determine the perfect spot for fishing.
Plus, it features a CHIRP dual beam sonar system to give you a highly precise tracking ability.
Benefits
If you are annoyed by how ridiculously small the screens of portable GPS devices usually are, the 5-inch WVGA display of the Humminbird HELIX will be a welcome respite.
It allows you to seamlessly switch between GPS and fishfinder modes whenever required. Plus, you can locate fish, scan the depths, and track your position at sea all with a few clicks of a button.
Drawbacks
While it delivers an exceptional performance with regards to monitoring position and identifying fish, many anglers complain that HELIX 5 GPS Fish Finder is not very user-friendly.
So, it might take some time and practice before you can really get the hang of this navigation tool.
Extra Features
The Helix 5 Fish Finder comprises of an in-built GPS chartplotter with Anima cartography and upgradeable storage capabilities. The device uses a microSD card for storing optional maps and saving waypoints.
The SD card and battery are housed in a waterproof compartment, so you don't have to worry accidentally dropping the device in water. Moreover, it a special 'Max Mode' that allows you to zoom in on your target and easily identify schools.
Buying Advice
The Humminbird HELIX 5 GPS Fish Finder is a good investment for anyone and everyone who fish frequently. Its considerably large and brightly lit screen gives you all the info you need at a glance.
By helping you view what's hiding underneath the water surface, it ensures that you never return empty-handed from your fishing venture.
However, keep in mind that since it doesn't have a standby mode, it tends to run out of power quite quickly. So, keep an extra set of batteries at hand if you buy this GPS for finding fish.
RUNNER UP: Garmin Striker 4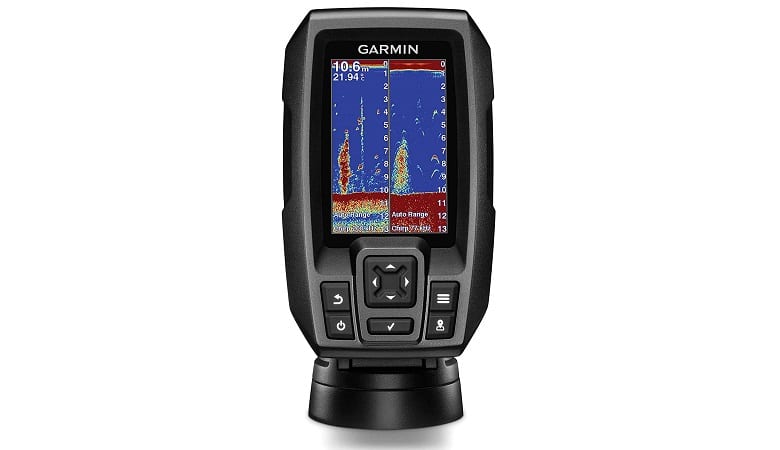 The Garmin Striker 4 with Transducer, 3.5″ GPS Fishfinder with CHIRP Traditional Transducer is one of the best handheld GPS for marine use no matter what angle you look at it from.
It gives you a complete picture of what is on and beneath the water around your boat so that you can go exactly where the potential catch is located.
Benefits
The Striker 4 device uses a Compressed High-Intensity Radiated Pulse (CHIRP) sonar to create a crisp and clean, near-photographic image of the underwater world.
Waypoints maps are preinstalled in the GPS receiver so you can easily steer to nearby docks, stumps, brush piles etc.
Drawbacks
The major drawback of this gadget is its relatively poor screen resolution.
Although the display measures 3.5-inches diagonally – significantly larger than most handheld alternatives – the graphics have a somewhat dated look that compromises the overall user experience.
Extra Features
The CHIRP sonar in the Striker 4 GPS Fish Finder by Garmin uses a continuous frequency sweep function to provide you with accurate and actionable information.
Its robust design makes it suitable for handheld operation although it includes a suction-cup-style mount for fixing it over the boat console
Buying Advice
The Striker 4 is an indispensable marine navigation tool that makes fishing easier than you might have imagined.
It has a simple user interface, is designed for longevity, and ensures that your voyages are safe and profitable. If you want a basic GPS fish finder that's practical yet cheap, this is the device you need.
Marine GPS FAQs
Do I Need a Marine GPS System?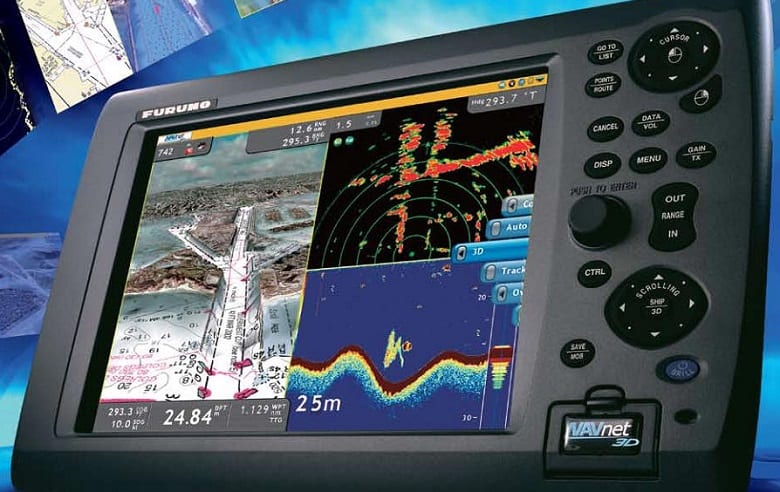 It's a common question that many novice boaters ask, and there's a good reason why. After all, can't you just use your car GPS device for finding your way at sea too?
Is it necessary to buy a marine GPS when you might already have another similar device at hand?
To keep it simple and straightforward, yes, you definitely need a 'marine' GPS every time you head out for a boat ride.
Navigation is of prime importance when you are out at sea, and marine GPS is the only device that can help you properly find your way in unfamiliar territory.
In case you haven't tried using it already, Google Maps is not yet compatible for nautical navigation. As for a car GPS, it may or may not work at sea.
However, even if it does, you must keep in mind that a GPS device designed for road transportation is unlikely to be programmed with aquatic maps.
Thus, it will offer limited to no utility on the water as you won't get any info about marine topography, depth, shoreline distances, and so on.
What is the best GPS for a boat?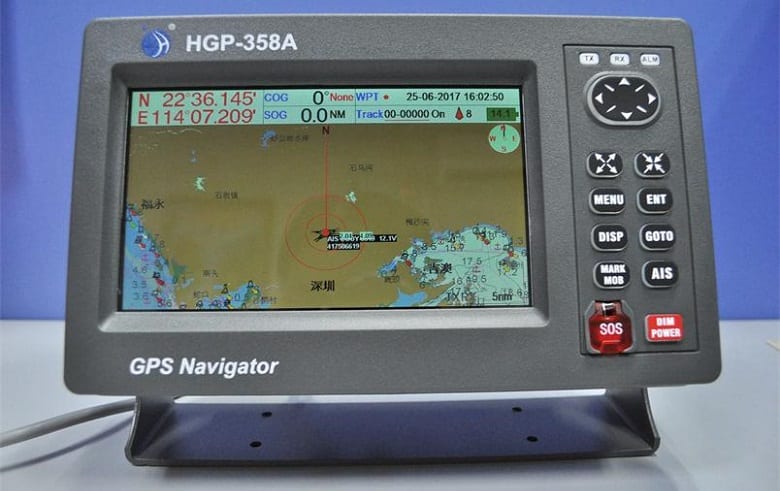 The best marine GPS for your boat is the one that meets your needs and preference. You need to carefully sort through reviews and take various technicalities into account.
You might come across several high-end devices with lots of bells and whistles – but it's better to buy a simple and practical GPS rather than end up with a fancy version that you have no idea how to use.
Here are some tips to consider when buying a GPS for your boat:
Power – If using a battery-powered GPS, see if it would last for a full day excursion or not. If you plan to remain at sea for longer, you should go for a GPS that you can plug in and recharge
Display – Invest in a dashboard-mounted GPS if you want a bold display since handheld navigators have a relatively small screen
Screen readability – In the case of marine GPS, a bigger display does not always translate to better visibility. Your device must feature a sunlight readability mode to avoid blind spots due to the glare.
Internal memory upgrades – You might not need an internal storage upgrade if you only sail in local waters or know your destined spots like the back of your hand. However, if you are more inclined towards adventure and intend to go far and beyond in your boat, make sure your GPS can support that additional maps you will require
Network connectivity – Wi-fi capability is another feature to look out for if you wish to take your vessel into unknown territories. A GPS with network support can help you connect with local authorities and nearby boats when required
How does marine GPS work?
A marine GPS, short for Global Positioning System, is a long-range, weak-signal device that relies on an elaborate network of satellites to work.
These satellites orbiting the earth are continuously sending out signals that are intercepted by your GPS receiver.
Digital circuits embedded within the receiver then use those signals to calculate your position based on how long it took for the messages to arrive.
Can a car GPS be used on a boat?
In most cases, a car GPS may work on a boat, but it is not usually recommended. Marine GPS combines the functionality of automobile trackers and outdoor navigators to ensure that the user is never lost at sea.
More importantly, you shouldn't rely on a car GPS for nautical navigation as they don't normally keep track of the weather conditions. A slight change in wind speed or unpredictable rainfall can lead to a life-threatening situation at sea.
A marine GPS has in-built sensors or network support that allow you to stay ahead of the curve by keeping track of your surroundings from the sky to the seafloor and everything else in between.
Can GPS be used in place of marine charts?
A nautical chart or marine chart is one of the most fundamental tools that every angler or sailor needs to have in their arsenal. It depicts the geographical layout of the shoreline as well as the configuration of the seafloor.
Almost all of the marine GPS available in the market today come preinstalled with local marine charts. Or they have a computer port or an SD card reader so you can load these charts yourself.
While a GPS itself cannot be used as a nautical chart, the best marine GPS will provide you will vital info such as water depth, anchorages and other chart features all in one place.
Conclusion
Boating is becoming an increasingly popular past time activity among people of various age groups all across the U.S. – and for a good reason too.
Whether you go fishing or just enjoy being away from the hustle and bustle of daily life, boating can be a great way to relax and unwind.
You might have bought the best fishing gear and perhaps even purchased your own private boat so that you don't have to rent one every time you want to hit the sea.
But if you want to make the most of your trip and return home safely, you must consider buying the best marine GPS too.
We hope that the buying advice and marine GPS reviews presented in this guide would help you make an informed decision and select the right nautical navigation device for your sea journeys.
Until then, sail safe and bon voyage!
---