Batteries are an essential component of a boat, yet they are often the most neglected part – until they stop working, that is.
That's the moment when you seriously ponder over the type of marine battery you have been using all along, how you can get it repaired, or whether or not you will need to buy a new one.
Best Overall
Size
7.68 x 5.12 x 7.09 inches
However, to avoid any unwanted situations, it is important to invest in a high-quality battery in the first place.
Here, we have rounded up the best marine battery options that you can choose from for your boat. Let's discuss their key features, specs, benefits, and lots more!
Best Marine Battery – Reviews & Buying guide for 2020
Best Overall: Optima Deep Cycle Marine Battery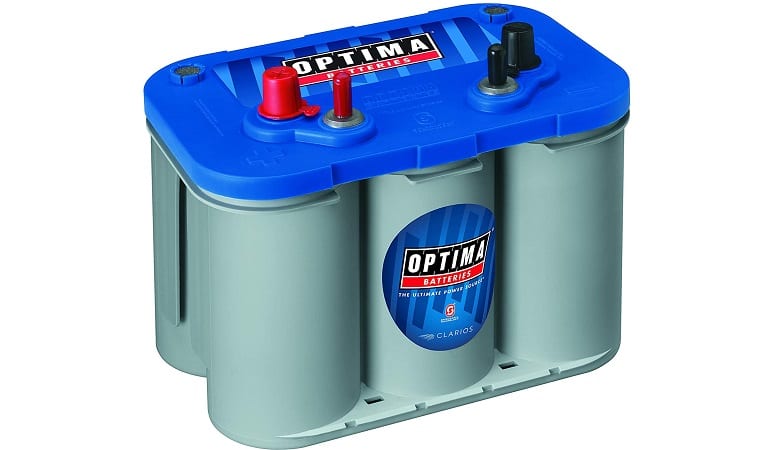 Benefits
This is the best marine battery for a trolling motor on this list. The Optima Batteries 8016-103 D34M BlueTop is a dual-purpose battery that works brilliantly for both deep cycling and starting.
It's a highly-versatile battery that comes with a 12-volt voltage and a high cranking power – 750 cold-cranking amps and 870 cranking amps.
The Optima Blue Top is highly resistant to vibrations – thanks to its robust, durable blue-top case and grey packaging. The manufacturer claims the product can tolerate 15 times more vibrations than the most batteries.
The battery's strong exterior is highly weather- and water-proof and thus, allows the battery to function in all types of tough weather conditions – even on the chilliest of days.
This fact makes the Optima battery one of the best marine essentials on the market today.
Drawbacks
There's always a risk of overcharging the 8016-103 D34M Blue Top. That's because of its AGM (Absorbent Glass Mat) technology that holds tight tolerances of cells. The downside of overcharging the battery is its reduced lifespan.
Extra Features
The Optima marine battery comes with a unique setup, containing a blue top with a dark gray case. The interior is designed using specialized technology – SpiralCell Technology.
A series of spiral-cells are skillfully layered over pure lead plates – a design that offers extra protection and optimal performance.
The battery is compact and lightweight as it weighs up to 43.5 pounds only. Because of its small size, the Optimum Blue Top is easy to mount on any part of the boat.
The battery comes with an internal resistance of 0.0028 ohms, a reserve capacity of 120 minutes, and a discharge of 25 amps. This allows the battery to deliver an impeccable starting and cycling duty.
The best part is that the Optima battery doesn't take long to charge. It reaches its maximum capacity in 6 to 10 hours.
Buying Advice
This is a supremely versatile battery that you can install in your boat or RV for starting or deep cycling. With its high reserve capacity and excellent design, it is an amazing marine boat that offers good value for money.
The item also comes with a two-year warranty. If the battery displays any defect or quality concern during the first two years of use, the Optima Company will offer a repair or replacement free of cost.
Runner Up: UPG Sealed Lead Acid Battery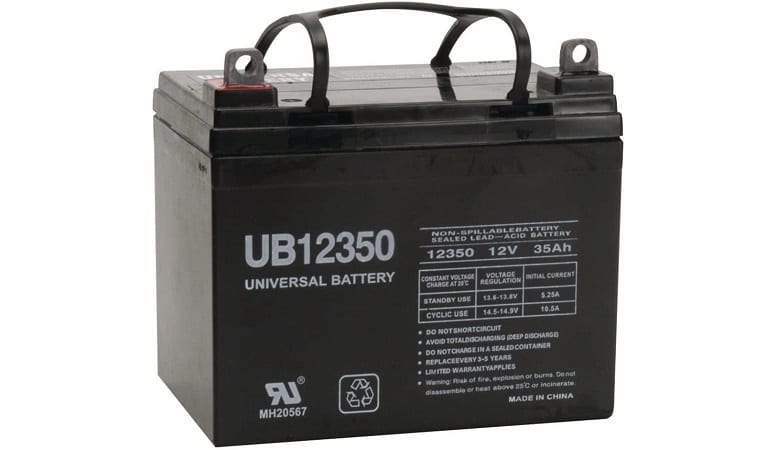 Benefits
This is a reliable and highly durable seal lead-acid battery. It features the sulfuric acid electrolyte clot that prevents the acid from spilling out.
Even though the battery is slightly more expensive than the regular lead-acid ones, it is a lot safer and long-lasting.
The tough, spill-proof construction offers a safe operation, regardless of where you install the battery. The enhanced operation is ideal for all types of small applications.
The solid and sealed lead acid battery is also simple to mount. It offers ample power and excellent performance to rely on for a variety of applications – golf carts, mobility scooters, motorized wheelchairs, boats, etc.
Drawbacks
Like all marine batteries, the UPG 85980/D5722 Sealed Lead Acid Battery has quite a few drawbacks. First of all, the battery has some packaging issues.
Users complain that the packaging is done in a manner that bends the terminals. Some also say that the model emits heat and tends to decrease in efficiency over time.
Extra Features
The all-black solid construct is one of the most stand-out features of the UPG Lead Acid battery. It is highly effective and convenient to use, making it an awesome pick for first-time users.
Finding a battery that is small yet efficient is often difficult, but this UPG battery offers both the qualities in one box!
The versatile battery can be used for multiple tasks. It can power spotlights, flashlights, exit lights, backup systems, and several other pieces of equipment. It is regulated by a valve that is easy to access and start.
The battery offers 12V nominal voltage that remains constant even during heavy-load conditions. The Absorbent Glass Mat technology offers ample power. It delivers 35 amperes over 2.5 hours at a nominal 12V.
However, the battery needs to be charged once it runs out of power. The good thing is that it is easy and quick to charge and won't take several hours to rejuvenate itself.
Buying Advice
This is a remarkable choice to power a variety of equipment, including portable medical devices, solar systems, garage doors, electric fences, gates, regular battery supplies, etc.
The UPG Company also offers a one-year warranty, which you can utilize in case the battery displays any sort of issues. The manufactures will replace or repair the battery, depending on the situation.
Alternative: Weize Rechargeable Battery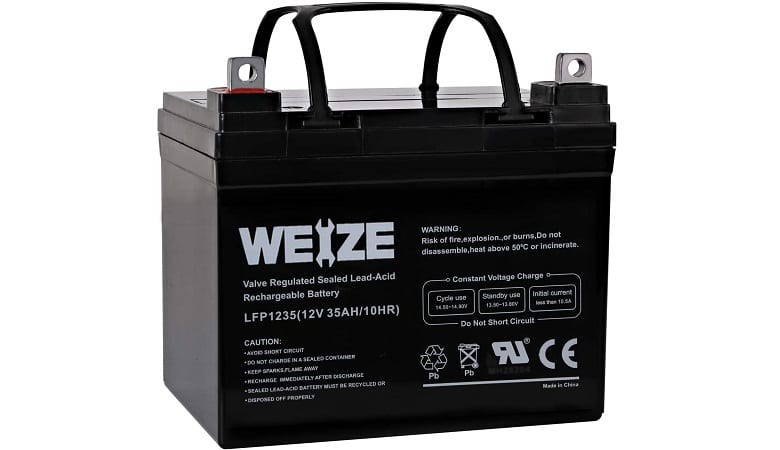 Benefits
The Weize 12V 35AH Rechargeable Battery is a high-capacity battery that runs for a long time.
The two-back battery system allows you to put two batteries in series, providing 24V voltage to the users. With two batteries installed, your boat can run for an entire day, without running out of strength in-between.
Since it's a deep cycle battery, it provides you with a long backup. There is a zero chance for the drop in performance due to low battery or less voltage.
The battery ensures supreme and effective performance for a long time. The best part is that you will only need to charge the battery once, and it will work as if it's brand-new.
Drawbacks
This is a maintenance-free battery, which means you don't have to maintain the acid/water level in the battery.
So, if the battery boils dry, you will have to replace the battery instead of refilling it with water or acid. Because of this reason, the battery can have high-maintenance charges.
The lead-acid battery is also quite heavy and needs care when dealing with it.
Extra Features
The Weize 12V 35AH is a lead-acid battery that offers resistance to corrosion and prevents overcharging.
Please note that both these factors can shorten a battery's life. But with the sealed battery, the product will run for a long time and prove to be excellent value for money.
It is also quite easy to secure the battery in a boat. You will first need to clean the area where you need to install your boat and seal up in case of holes.
Next, you can secure the battery with screws. This is a simple DIY task that you can do on your own without having to rely on professionals.
The battery is created from the advanced Absorbent Glass Mat (AGM) technology, which provides great power and amazing cycling performance than traditional lead-based batteries.
Buying Advice
This is one of the best deep cycle marine batteries out there. The AGM-based boat is ideally used for home alarm systems, lighting equipment, UPS (Uninterruptible Power Supply), medical devices, scooters, wheelchairs, fishing boats, deck boats, etc.
The powerful battery provides a day-long power backup and lasts for years to come. Plus, it comes with a one-year warranty – all the way more reason to invest in it!
aLTERNATIVE: VMAX Maintenance-Free Battery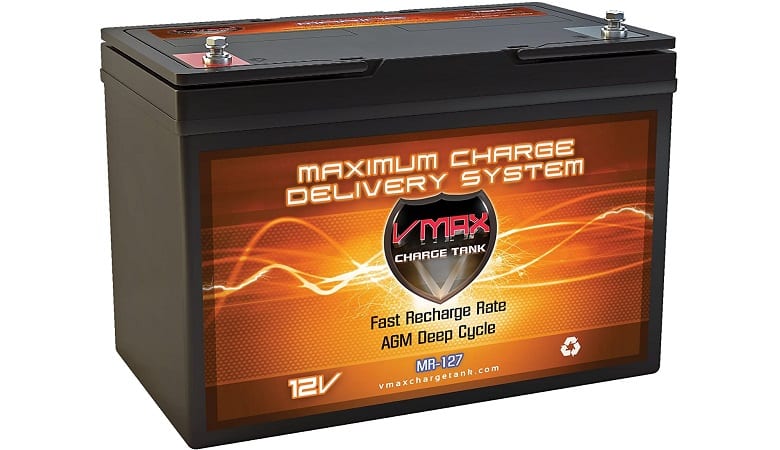 Benefits
The VMAX857 Battery offers a wide range of benefits. It is small, compact, and easy to transport, as it weighs only 2.2 pounds.
The battery is specifically designed for deep-cycle applications and is an excellent choice for powering your marine boats and other vessels. The battery features military-grade alloyed plates, making the battery more durable and tougher.
The maintenance-free battery comes with safety relief valves and an automatic reseal feature for maximum security. Essentially, these components prevent the accumulation of gases, which can put your safety in jeopardy.
As the battery is water- and weather-proof, it offers trouble-free operation in all types of weather conditions. The battery is also shock-resistant and offers a lasting performance of up to 8 – 10 years.
Drawbacks
One of the biggest drawbacks of this VMAX battery is that it is super heavy. It can't be handled alone and may need assistance. Since it is heavy in weight, installing this battery may be quite a challenge and may require patience.
Extra Features
The VMAX battery comes in a 100% maintenance-free package that prevents spills and leaks. Owing to this reason, the battery is rightfully branded as "non-spillable and non-hazardous," and installing it won't pose a threat to your safety whatsoever.
Another remarkable feature of this battery is its plates that store a large number of electrodes. These plates are designed from the specialized Absorbed Glass Matt (AGM) that doubles the overall strength of the battery.
Since the battery is created specifically from wet cells, also known as gel cells or flooded cells, the plates hoard more electricity and enable the battery to function for hours on end. This key feature also enables the battery to resist shocks and vibrations.
The battery cables are made in the USA. So, they can easily power any electrical system that has an American Wire Gauge (AWG).
According to the VMAX, the deep-cycle battery can perfectly fit any Group 27 Battery Box and the Minnkota Trolling Motor Power Center.
Buying Advice
Considering all its benefits and features, the VMAX857 battery is one of the best deep cycle batteries on the market today.
With a supreme power density of 100Ah, the battery indeed offers a superior deep cycle capability. The product also comes in robust tank seals and tightly packed plates, elongating its lifespan.
In a nutshell, this battery works supremely well, and with 100 amp hours, it is best for large boats.
aLTERNATIVE: Exide Maintenance Free Marine Battery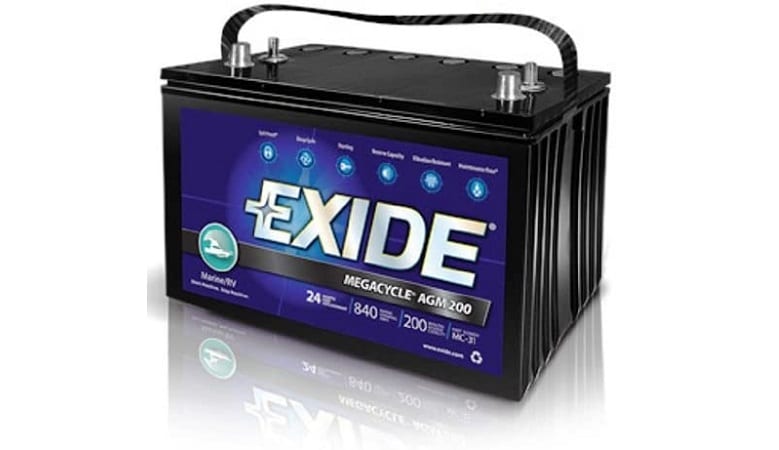 Benefits
The Exide XMC-31 MEGACYCLE AGM-200 is a dual-purpose marine battery – strong and reliable.
It features a solid blue and black design and is small and easy to carry around, and more so because of a sturdy top handle. The battery's dual-terminal design can secure two batteries and double the battery's power.
The battery also offers a long-running use – thanks to its Absorbed Glass Mat that firmly holds electrolytes in a thin glass mat.
The glass mat also prevents the cell from drying out and provides maximum stability against extreme vibration and high cycling operations.
The sealed, maintenance-free battery is quite versatile. It can be used as trolling batteries, main boat batteries and can come in handy for many applications- fishing, boating, rafting, etc.
Drawbacks
If the date of purchase is too late than the date of manufacture, the battery may not deliver optimum performance. Even though the battery comes in a small size, it is quite heavy.
Therefore, you will have to handle it carefully, or you may risk getting injured if not properly used.
Extra Features
The battery features two different cold-cranking amps. The CCA offers two temperatures – 950 CCA at 0 degrees F and 1110 CCA at 32 degrees Fahrenheit.
The battery provides a reserved capacity of 200 minutes, drawing 25 amps at 82 degrees Fahrenheit continuously. The high cold cranking amperes give you a fantastic power boost and continue to perform for more than three hours.
The top handle is removable. But when intact, it can easily move the battery from one point to another. Considering the weight of the battery, which is 71 pounds, the battery should ideally be handled by two persons.
The battery is fully sealed and non-spillable, resulting in an improvement in performance and ease of handling.
Please note that the dual terminals support lead wires that offer many advantages; they prevent moisture ingress, resist corrosion, and block the entrance of harmful hydrocarbons.
Buying Advice
If you don't mind heavy lifting, this sealed, maintenance-free battery is a great option. It has long-lasting energy to withstand large, pounding waves, making it ideal for both small and large crafts.
The product also comes with two years warranty. This allows you to get the necessary repairs done (if required) for free within the first two years of use.
You can also get the product replaced if unsatisfied. The product can run for hours without hampering or slowing down, so it's worth the investment.
Marine Battery FAQs
What Is So Different About a Marine Battery?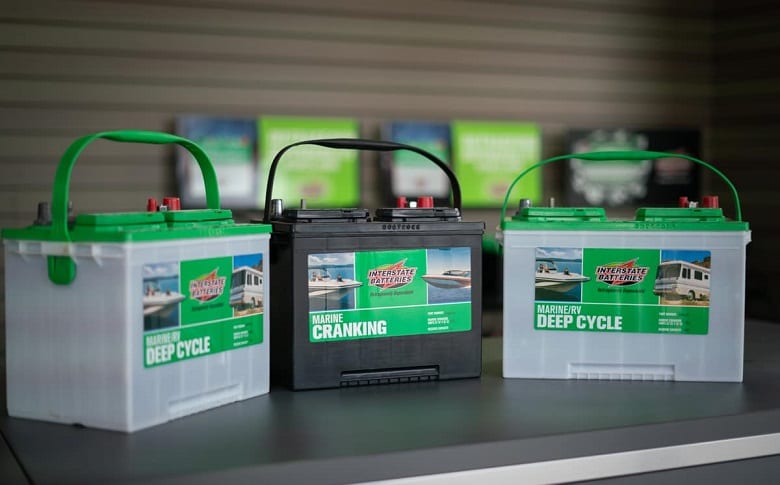 Marine batteries are a lot different from usual car batteries. That's because they are specifically manufactured to serve the needs and purposes of a modern boat.
As compared to other forms of batteries, marine batteries are stronger and heavier.
Marine batteries function as a house and cranking battery. This means they require a continuous supply of cranking energy for a long time.
This main feature makes these batteries supremely different from car batteries that only require a great amount of current once – to start the engine.
Marine batteries also help supply power to pumps, lighting, sound systems, and other essential components of a boat.
Also, the plates of the marine batteries are quite different from traditional batteries. They are tougher, stronger, and highly shock-resistant.
What Is a Good Marine Battery?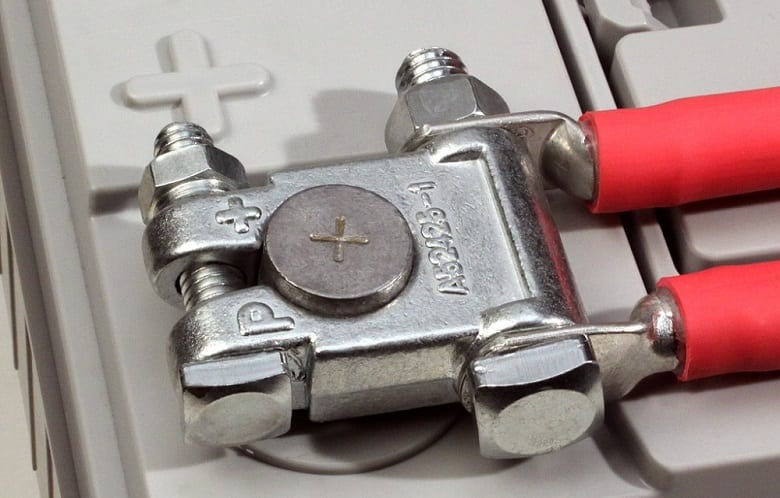 A competent marine battery has a few main features, which are as follows:
Longer Lifespan
Marine batteries are often an expensive purchase. Therefore, you want to ensure that the battery you opt for lives a long, secure life. Having a battery with a greater lifespan will also save your time and money on frequent battery replacements.
Maximum Capacity
Another important feature of a good marine battery is its high useable capacity. It is quite frustrating when you have to turn back around during your boating because the battery is low or runs out of power.
To ensure you enjoy extended boating trips, you should ensure the battery you choose has a large capacity.
High Sustained Voltage
Without sustained voltage, batteries run a risk of losing power throughout discharge. In this way, your battery's power becomes less efficient day by day. However, a marine battery with sustained voltage ensures long-lasting efficiency. It also maximizes the run time and power of the boat.
Lightweight
The excess weight of a battery may cause the marine vessel to sit lower in the water. This may make it difficult for the boat to glide through rough waters.
Therefore, a lightweight battery is always better and convenient. That being said, if your boat is designed to support heavy-weighted batteries, then investing in one is totally fine!
Is There a Difference Between Deep Cycle and Marine Battery?
The terms "deep cycle" and "marine" are interchangeably used. As a matter of fact, marine batteries are somewhat similar to a starting and deep cycle battery. That said, some marine batteries are also deep cycle batteries.
The main difference between marine and deep cycle batteries is the type of plates they have. Marine batteries usually have lead sponge plates. They are rougher, bristlier, and heavier than starting plates, but thinner than deep cycle battery plates.
How Long Do Marine Batteries Last?
Boat batteries are expensive. Most users only buy it once (or rarely) that typically lasts for up to 5 – 7 years.
If you use and maintain them well, the batteries can be long-lasting indeed. However, in the case of mistreatment, the batteries may lose their power and capacity in the first couple of uses.
Conclusion
Marine batteries are specially designed for modern boats. They are thick, strong, and quite powerful. They can withstand shocks and vibrations and may last longer than your boat.
However, you can only reap these benefits if you invest in an excellent marine battery, which we have reviewed multiple of in this blog post for your ease and convenience!
---