If you are considering spending time together as a family, boating is probably one of the best and most enjoyable activities you can plan.
It allows you to slow down from the hustle and bustle of daily life, gives you an opportunity to connect with the serenity of nature, cruise to new destinations, and create memories for a lifetime.
Any activity on the open water can dangerous if you do not take adequate measures. And of course, if you want to enjoy a fun filled day of boating, you should make safety a priority.
Whether you are at the dock, are anchored out, or going for a cruise, you need to make sure that everyone on the boat is safe – especially younger children.
Generally, boating is a safe activity. However, to ensure that things on the boat move as smoothly as possible, you need to follow a few tips and tricks for boating with kids. 
Boating with a Baby – At What Age Should You Take Kids On The Boat With You?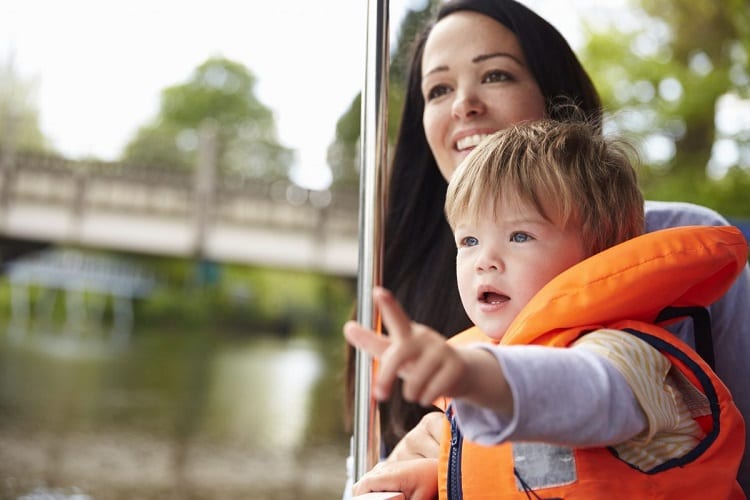 When planning a boating adventure, many people worry about whether they can take their kids to the boat or not.
The answer is yes but only if you take the necessary safety precautions. Boating with kids of any age is safe as long as you take appropriate safety measures.
Boating with kids as young as a few week olds is also completely safe. All you need to use is an infant life jacket which correctly fits the baby.
Also, make sure that the baby is not strapped to any kind of car seat or booster child. Instead, the safest place for an infant is an adult's lap.
Ensure that All Kids Wear a Life Jacket
When boating with kids, make sure that all kids regardless of age should always wear a life jacket.
Life jacket is critical not only as you cruise but children should wear a life jacket once they start walking towards the dock. This is particularly important for young toddlers who are not aware of the severity of water danger.
Forced by their curiosity, younger toddlers and children tend to explore the dock on their own. Also due to their developing balance, they are at a higher risk of getting distracted and falling into water.
Therefore, it is extremely important that kids should wear a life jacket even before getting on the boat.
Have Enough Life Jackets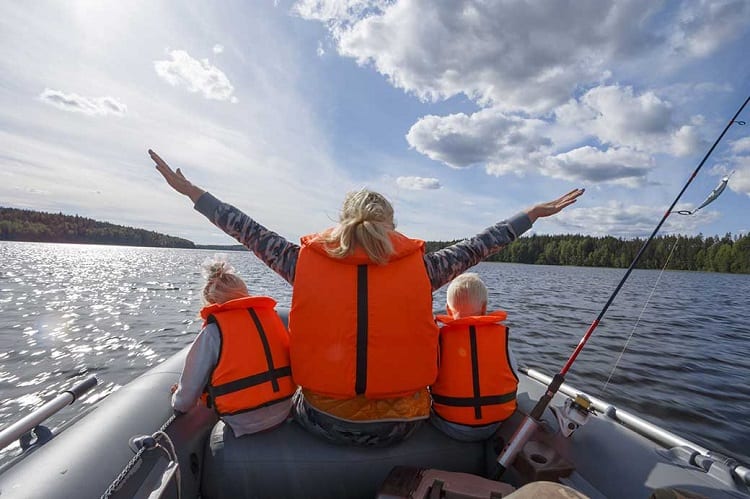 As families plan boating activity, many older kids want to bring along their friends. At times, it is planned but there are instances where friends suddenly show up.
o ensure that all your children and their friends enjoy the boating trip together, it is a good idea to stack up some extra life jackets of different sizes.
This will allow you to accommodate any unexpected guests without compromising on their safety.
Fun in the Sun – Sun Safety While Boating with Kids
Boating is usually a summer activity but having fun in the sun is not always a good idea. You might end up getting a sunburn which can ruin your boating trip. Also, prolonged exposure to the sun can increase the risk of getting skin cancer.
To make sure that you enjoy your boating trip with your kids during the hot summer days, don't forget to apply sunscreen multiple times throughout the day.
If you are boating with kids, it is a good idea to keep an ample supply of sunscreens on the boat. Keeping a few hats and sunglasses can also provide you safety from the heat but sunscreen is a must!
Keeping the Kids Distracted on the Boat – What To Do If Your Kid Is Afraid Of Water?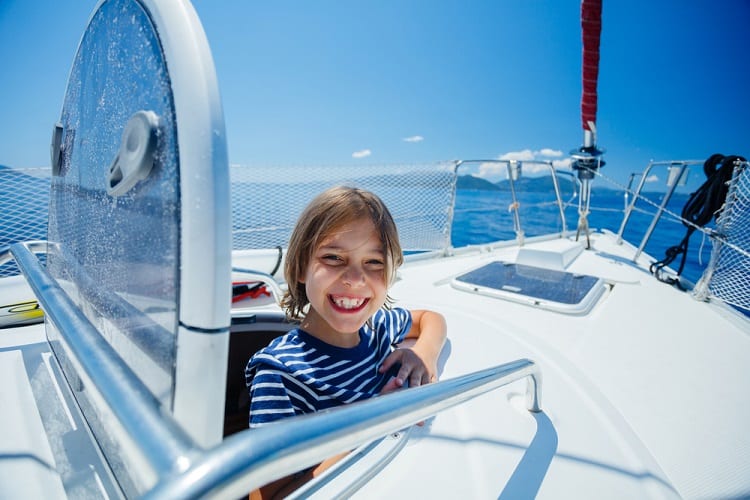 Boating with kids can be troublesome if the kids are bored or restless. But you can easily make the most of your trip with children by keeping them engaged and entertained.
For a younger child, you will need to bring on supplies which can keep them occupied. It is a good idea to bring a few of their favorite waterproof toys or puzzles on board.
When children get bored of their toys, you can spend time with them as they watch the waves and try to catch them together. Let them take the lead by making them sit at the helm.
In case of older children, you can get them involved in navigation. Point out markers and landmarks as you cruise through water.
Generally, kids of all age enjoy water adventures but what to do in case your kid is afraid of water?
If you are already aware that your little one is afraid of water, it is a good idea to give them some practice at the dock before the cruise actually begins.
Also, as you cruise, you can keep them distracted by playing with toys or assigning them certain tasks such as counting the fish.
But if something at the boat goes wrong, it is completely normal for even older kids to get scared. When things on the boat do not go as planned, children tend to get scared and distracted.
Similar to how you keep the younger kids preoccupied, use the same strategy for distracting older kids. Practice how to fit life jackets and fetch fire extinguishers in case of emergency.
Also, help them locate the safest spot in case of adverse weather conditions.
Extra Precautions – Teach Your Kids How to Swim?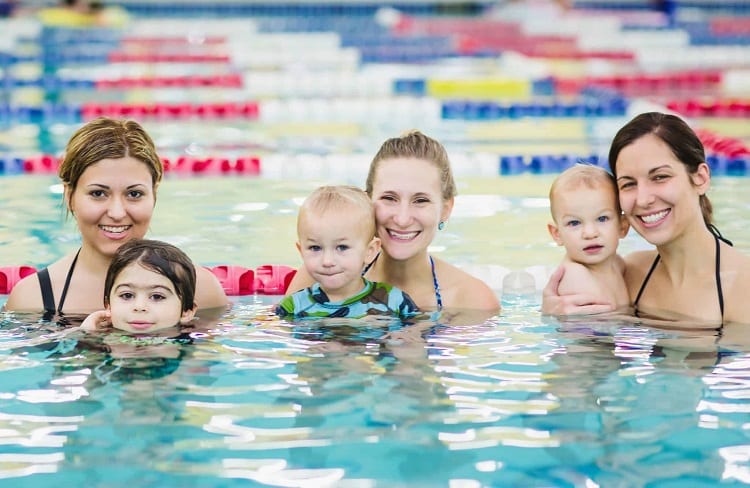 Many people wonder whether they should go boating if their kids don't know how to swim?
The answer is yes. You can go for boating with kids even if none of you know how to swim. But teaching your children swimming is more of the extra precaution which you can take to ensure that your kids are safe around water.
Though boating with kids is safe but accidents can happen anytime, anywhere. Knowing how to swim will provide you extra safety against any unforeseen disaster and will give you more peace of mind.
An important reminder: Even if you are a professional swimmer, life jacket is still mandatory while you are boating with kids.
How Many Adults on the Boat with a Baby or Kids?
Kids can be destructive and a big distraction especially on the boat.
If you are cruising with one or more kids on boat, make sure there are enough adults on the boat to ensure the safety and comfort of everyone.
As a rule, if one family is boating with kids, ideally there should be two adults on board so that one of them can take care of the boat while the other person can focus on the kids.
Kids PFD's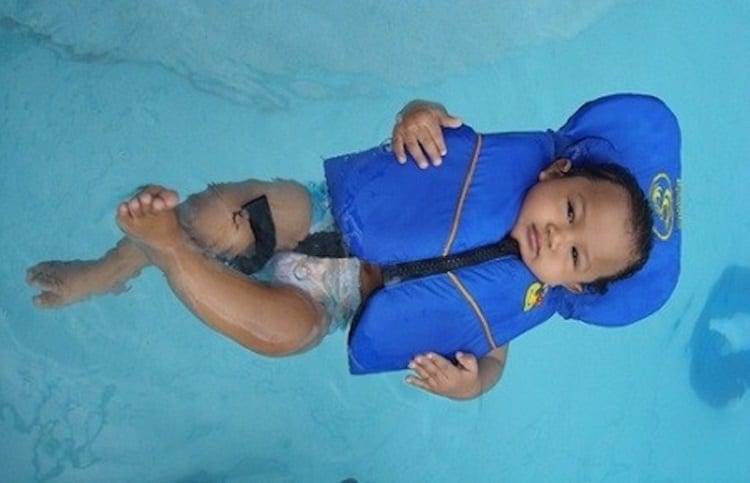 PFD refers to the personal floating devices. So far for the purpose of keeping things simple, we have used the word life jacket as synonymous to PFDs.
As you go boating with kids, here are a few things about PFDs which you should keep in mind.
Fitting
Fit is the most important thing when it comes to PFD. A PFD with the right fit will ensure that the child remains afloat. As a general rule, the more straps a PFD has, it can adjust well to different sizes.
Unlike PFDs for adults which depends upon the chest size, a child's PFD depends upon the weight. So you can choose the right PFD using the following guidelines.
A PFD for Infant: weight range between 8 and 30 pounds
A PFD for children: weight range between 30 and 50 pounds
A PFD for older kids: 50 to 90 pounds
A few essential guidelines for PFDs for infants and children. Make sure a PFD has a:
Head support which is padded. This ensure that the head remains above water in case the child falls overboard.
A handle which can assist in grabbing and retrieving a child from the water.
Types of PFDs
There are 5 classification of PFDs.
Typically for boating, children and adults often use a Type II near shore life vests. They are more suitable for calm, inland waters. But for rough and deep waters, a higher level of safety might be required.
Wearing a PFD
When wearing a PFD, make sure that the life jacket is fully secured and you are able to pick up the child using the shoulder of the PFD.
Also ensure that the chin and ears do not slip through the PFD. At time, kids, especially younger children do not enjoy wearing a PDF. In that case, it is important that you prepare them beforehand.
Talk to them about how they cannot enjoy boating if they do not wear a PDF.
Conclusion
If you are planning boating with kids, just know that you don't have to wait till your child grows up. Instead, you can enjoy boating with infants as young as a few weeks old.
But all you have to worry about is the safety of all the family members on the boat. Provide a comfortable environment for everyone on the boat with adequate PFDs and you are good to go for a ride to make beautiful memories.